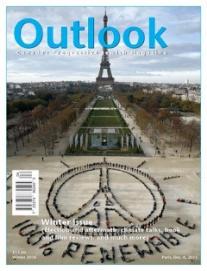 Outlook: Canada's Progressive Jewish Magazine is an independent, secular Jewish periodical published six times a year in Vancouver, BC. It was founded in 1963 in Toronto as Canadian Jewish Outlook, an English-language supplement to the Yiddish newspaper Vochenblatt.
Outlook has a socialist-humanist perspective, and is devoted to Yiddishkayt, Jewish ethical humanism, and peace and social justice. It features political and cultural commentary on national and international events and trends in North American Jewish life, and takes a strong internationalist position in support of the rights of both Palestinians and Israelis. It publishes Yiddish poetry in the original and in English translation.
Its editor is Carl Rosenberg, and its managing editor is Sylvia Friedman, with four Associate Editors: David Cohen (Hamilton), Mark Golden (Winnipeg), Diana Ralph (Ottawa) and Martha Roth (Vancouver). Canada-wide perspective is provided by editorial and advisory collectives in Ottawa, Toronto, and Winnipeg as well as Vancouver.
More Information